PP Dunnage Air Bag Manufacturers, Suppliers, Exporters in India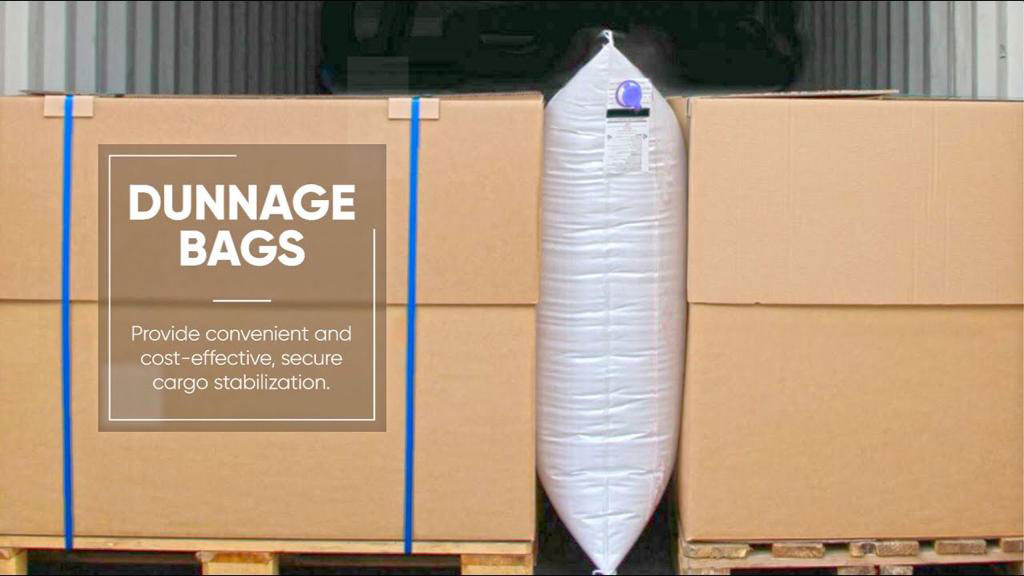 We Candour India Packaging Pvt. Ltd. are PP Dunnage Air Bag manufacturers, suppliers, exporters in India. We have been in this business for the last more than two decades and we are proud to be a part of the industry. We offer a wide range of Dunnage Air Bags that are designed and manufactured using high-grade raw materials in accordance to international quality standards. Our products include Paper Dunnage Air Bags, Cargo Secure Dunnage Air Bags, Kraft Paper Dunnage Air Bags etc.
About Our PP Dunnage Air Bag:
We are PP Dunnage Air Bag manufacturers, suppliers, exporters in India. PP is an air bag that is designed to be used in the truck bed of a tractor trailer. This air bag is usually installed on the frame of the truck and it can be used for both load and unload operations. It is designed to reduce the risk of injury during loading or unloading operations from a truck bed. It also provides a safer, more efficient way to load or unload material while being able to keep it in place without damaging it. It is a lightweight, compact, and easy-to-use air bag that can be placed on the floor of a car or truck bed. It's made of high-quality material and is capable of reducing injuries by up to 85%.
Why choose us?
We offer the highest quality and best service to their customers with many years of experience in the industry.
Thanks to our experience, we have developed cutting-edge packaging solutions that can meet the needs of any product.
We are an ISO certified company, with a strong global presence in the market and are committed to providing our customers with the best quality products at competitive prices.
We have been providing solutions to various industries like food & beverage, pharmaceuticals, chemicals and many more.
Features-
We are PP Dunnage Air Bag manufacturers, suppliers, exporters in India. PP Dunnage Air Bag is an inflatable air bag that can be used to protect people from the impact of a collision. It is made from polypropylene with an outer layer of polyethylene and a liner layer of high-grade PE, which is puncture-resistant.
The PP Dunnage Air Bag has the following features:
These Bag can be used for both single and dual-stage application.
It is also designed to work with different types of materials like steel, aluminium, and polyurethane.
This air bag also comes with a low cost of operation and no maintenance or service required.
It is used in a variety of industries like construction, mining, and manufacturing.
It also features an automatic pressure release valve for quick deflation after use.
Benefits of using PP Dunnage Air Bag:
PP Dunnage Air Bags are used as protective packaging to prevent damage to goods during transportation. Here are some benefits of using PP Dunnage Air Bags:
Cost-effective: Dunnage Air Bags are a cost-effective solution compared to other packaging materials like foam or corrugated paper. They are lightweight, easy to handle, and do not require any special tools for installation.
Efficient: PP Dunnage Air Bags offer efficient cushioning for products during transportation. They can be inflated quickly, and the air pressure can be adjusted according to the specific needs of the cargo.
Versatile: Dunnage Air Bags can be used to secure a variety of cargo, including boxes, crates, and pallets.
Environmentally friendly: PP Dunnage Air Bags are made of recyclable materials, which make them an eco-friendly option for packaging. They can also be reused multiple times, reducing waste and cost.
Improved safety: Dunnage Air Bags can improve the safety of the transportation process. They prevent cargo from shifting or moving during transport, which can cause accidents or damage to the products.
Reduces damage and claims: By providing an extra layer of protection, Dunnage Air Bags can help reduce product damage during transportation.
More about Our Products:
PP Dunnage Air Bag is a device that uses compressed air to inflate an air bag. It is an air-filled bag of fabric or other material used to protect cargo during transport, either on a truck or ship.
PP Dunnage Air Bag has many benefits when it comes to using them. They are lightweight and can be easily installed without any hassle. They are also very easy to operate and can be inflated in just a few seconds, making them perfect for emergency use.
PP Dunnage Air Bag is a type of air bag that is made out of polypropylene. It is used in order to protect the items from getting damaged during transportation. The bag is made out of a polypropylene material which is strong, odourless and long lasting. It is also able to withstand the force of hitting something hard.
PP Dunnage Air Bag, PP Dunnage Air Bag in India, PP Dunnage Air Bag manufacturers, PP Dunnage Air Bag manufacturers in India, PP Dunnage Air Bag suppliers, PP Dunnage Air Bag suppliers in India, PP Dunnage Air Bag exporters, PP Dunnage Air Bag exporters in India